Adverbs
An adverb is a descriptive word that modifies or adds information to a verb, an adjective, and another adverb. This type of modifier answers the question "how," "when," "where," "why," and "how much" (or "to what extent"). The italicized words below modify the verb whispers:
HOW:
WHEN:
WHERE:
WHY:
HOW MUCH:

Eric whispers quietly.
He whispers now.
He whispers there.
He whispers because.
He whispers more.
The modifier usually appears near the verb that it modifies, but it can appear almost anywhere in a sentence.
Abe will soon leave for home.
Soon, Abe will leave for home.
Suffix -ly
Descriptive adjectives often end with suffixes such as -able, -ful, -ive, or -ous. Below are the modifying forms of some nouns. Notice that the adverb is formed by adding -ly to the adjective.
NOUN 

bliss
nature
help

ADJECTIVE 

blissful
natural
helpful

ADVERB 

blissfully
naturally
helpfully
Of course, not every word that ends in -ly is an adverb. Ghastly, hilly, lively, chilly, lovely, friendly, orderly, and lonely are all adjectives.
Examples
Write each adverb from the following sentences and give the verb or verb phrase that it modifies.
The ice broke loudly and suddenly.
Fido ran ahead.
Tomorrow, he will learn the answer.
Solutions
Loudly and suddenly tell "how" the ice broke.
Ahead tells "where" Fido ran.
Tomorrow tells "when" he will learn. Tomorrow modifies the verb phrase will learn.
Adjective or Adverb?
Some words, such as hard, fast, right, early, and long, have the same form whether they are used as adjectives or adverbs. However, we can tell how the word is being used by the part of speech that it modifies.
ADJECTIVE:
ADVERB:

The test was hard. (modifies the noun "test")
Jim worked hard. (modifies the verb "worked")
Like adjectives, some adverbs can express the three degrees of comparison: positive, comparative, and superlative.
Kelly came late.
Kelly came later than Amy.
Of the three, Kelly came latest.
Diagramming Adverbs
As we do with adjectives, we write the adverb on a slanted line under the word it modifies.
Lucy skates nearby.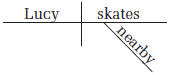 Contractions like couldn't contain the adverb not. When we diagram contractions, we place the n't beneath the verb:
I couldn't believe it!